VyprVPN platforms
| Platform | Speed | Stability |
| --- | --- | --- |
| Android | - | - |
| Windows | 597 kbps | 100% |
VyprVPN protocols
VPN: Virtual Private Networks come in many forms. Advantages include security and ease of use. VPNs can be used by any software. Turning the VPN on and off can be slow.
Install VyprVPN
Windows
1. First you need to download the GoldenFrog Windows clients. Please visit https://github.com/greatfire/cc and download VyprVPN-2.10.0.7514-installer.exe
2. Double-click the installation file once the download is complete. If a security prompt appears, click Agree to install.
3. Click Next until the installation is complete. Once the installation is complete, open Vyprvpn.
4. On the login screen, enter your account information to login.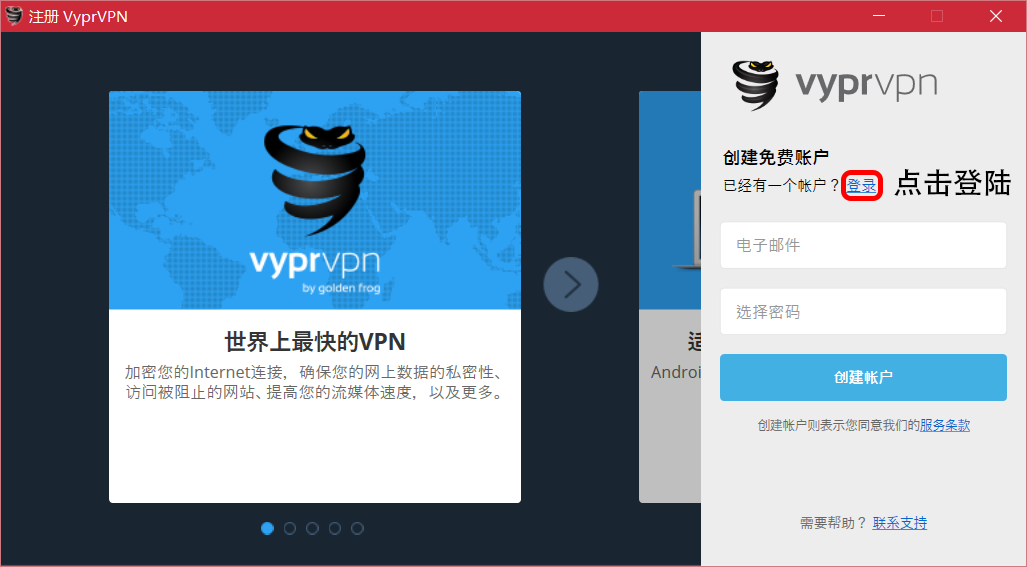 5. Users in China need to change the protocol to "Chameleon" when they login for the first time.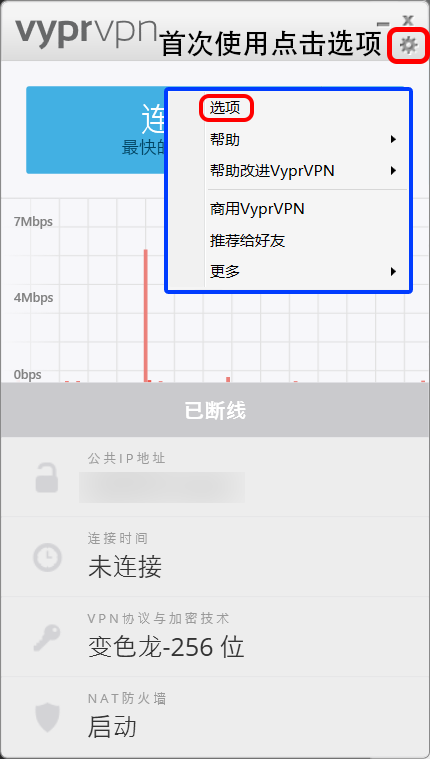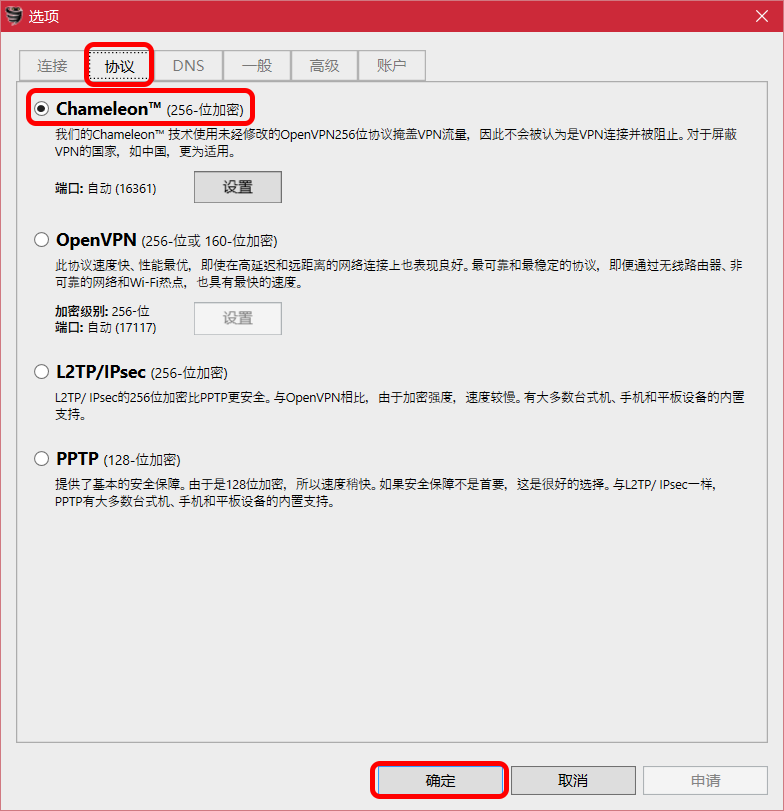 6. Select a server to connect.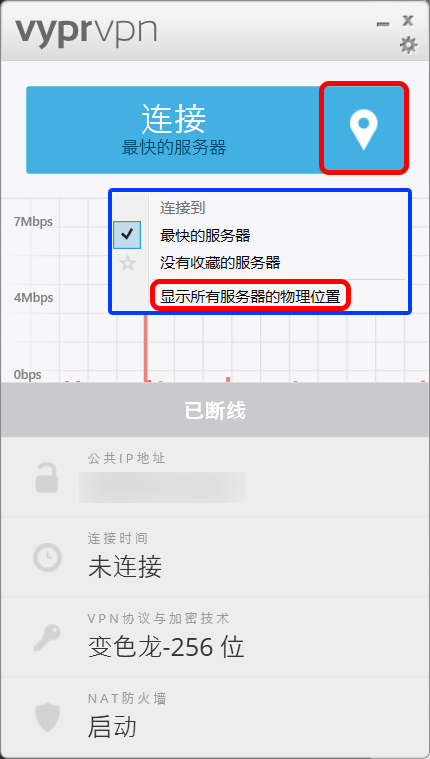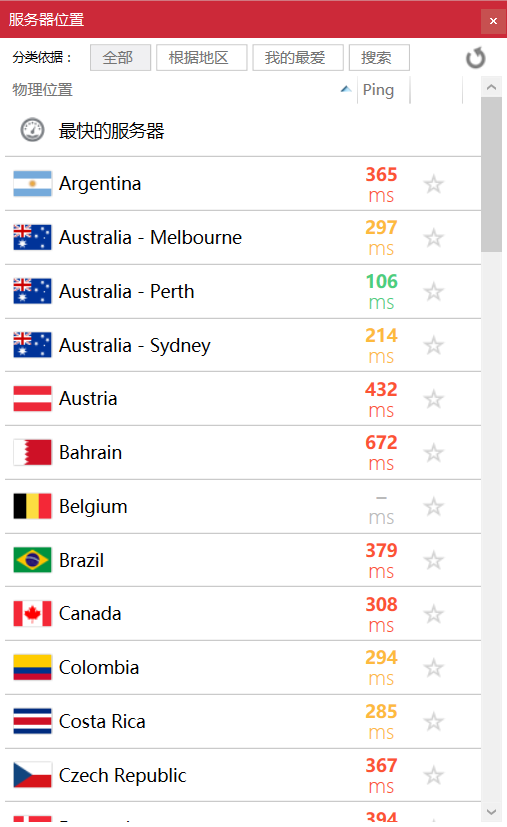 7. Click Disconnect to end the VPN connection.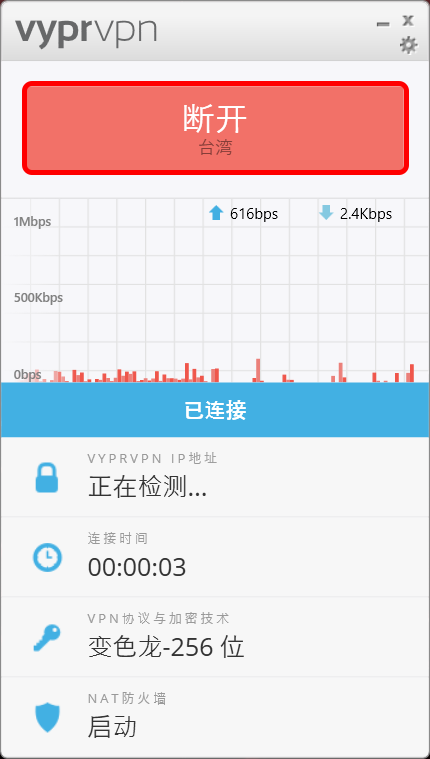 VyprVPN performance
Speed
Stability
Number of tests
All Tests
| Created At | Platform | Location | Median Speed | Stability |
| --- | --- | --- | --- | --- |
| 2023-11-03 | Windows | | 499.98 | 100.00% |
| 2023-11-03 | Windows | | 694.47 | 100.00% |
| 2023-10-19 | iOS | | 691.92 | 100.00% |
| 2023-09-22 | Windows | | 284.01 | 97.62% |
| 2023-09-13 | Windows | | 233.86 | 66.67% |
| 2023-08-28 | Windows | | 843.54 | 100.00% |
| 2023-05-01 | Windows | | 268.62 | 100.00% |
| 2023-03-19 | Windows | | 719.01 | 100.00% |
| 2023-03-05 | Windows | | 1268.90 | 100.00% |
| 2023-03-05 | Windows | | 659.61 | 95.24% |
| 2023-03-04 | Android | | 965.36 | 100.00% |
| 2023-03-01 | Android | | 348.97 | 100.00% |
| 2023-02-27 | Linux | | 525.59 | 66.67% |
| 2023-02-15 | Android | | 169.69 | 100.00% |
| 2023-01-08 | Windows | | 768.82 | 95.24% |
| 2022-12-29 | Windows | | 329.93 | 97.62% |
| 2022-12-29 | Windows | | 459.01 | 100.00% |
| 2022-12-25 | Windows | | 638.46 | 97.62% |
| 2022-11-08 | Windows | | 332.30 | 85.71% |
| 2022-10-19 | Windows | | 94.70 | 97.62% |
| 2022-10-11 | Windows | | 1024.33 | 100.00% |
| 2022-09-15 | Android | | 247.22 | 100.00% |
| 2022-08-09 | Windows | | 771.87 | 80.95% |
| 2022-07-22 | Windows | | 350.48 | 100.00% |
| 2022-07-06 | Windows | | 350.31 | 80.95% |
| 2022-07-01 | Android | | 478.92 | 100.00% |
| 2022-06-18 | Windows | | 326.71 | 100.00% |
| 2022-06-10 | Android | | 307.86 | 100.00% |
| 2022-03-26 | Android | | 523.15 | 100.00% |
| 2022-03-16 | Android | | 230.56 | 97.62% |
| 2022-02-23 | Android | | 264.17 | 100.00% |
| 2022-02-21 | Android | | 443.77 | 97.62% |
| 2022-01-20 | Windows | | 653.08 | 100.00% |
| 2022-01-11 | Windows | | 774.11 | 100.00% |
| 2022-01-06 | Windows | | 566.49 | 100.00% |
| 2021-11-24 | iOS | | 322.52 | 100.00% |
| 2021-11-24 | iOS | | 343.59 | 100.00% |
| 2021-11-16 | Android | | 202.03 | 100.00% |
| 2021-11-11 | Android | | 189.68 | 100.00% |
| 2021-10-21 | Windows | | 365.86 | 97.62% |
| 2021-08-31 | Windows | | 536.04 | 90.48% |
| 2021-08-17 | Windows | | 304.16 | 100.00% |
| 2021-07-31 | Windows | | 328.10 | 90.48% |
| 2021-07-28 | Windows | | 115.52 | 90.48% |
| 2021-06-24 | Windows | | 148.88 | 97.62% |
| 2021-05-21 | Windows | | 183.44 | 85.71% |
| 2021-04-29 | Android | | 132.09 | 90.48% |
| 2021-04-24 | Android | | 140.33 | 90.48% |
| 2021-04-17 | Android | | 87.26 | 85.71% |
| 2021-04-17 | Android | | 254.11 | 95.24% |
| 2021-04-17 | Android | | 136.22 | 100.00% |
| 2021-04-17 | Windows | | 407.06 | 100.00% |
| 2021-04-17 | Windows | | 466.25 | 100.00% |
| 2021-04-16 | Mac OS | | 427.33 | 100.00% |
| 2021-03-06 | Windows | | 38.86 | 85.71% |
| 2021-02-01 | Windows | | 93.81 | 90.48% |
| 2021-01-28 | Windows | | 717.23 | 100.00% |
| 2021-01-28 | Windows | | 78.87 | 85.71% |
| 2021-01-22 | Windows | | 926.78 | 100.00% |
| 2021-01-22 | Windows | | 410.19 | 100.00% |
| 2021-01-21 | Windows | | 431.15 | 88.10% |
| 2021-01-20 | Windows | | 196.09 | 90.48% |
| 2021-01-20 | Windows | | 389.06 | 90.48% |
| 2021-01-20 | Windows | | 727.76 | 90.48% |
| 2021-01-20 | Windows | | 534.69 | 90.48% |
| 2021-01-16 | Windows | | 205.75 | 76.19% |
| 2021-01-12 | Windows | | 55.25 | 97.62% |
| 2020-12-19 | Windows | | 300.82 | 90.48% |
| 2020-12-17 | Windows | | 216.77 | 90.48% |
| 2020-12-06 | Windows | | 351.55 | 90.48% |
| 2020-12-02 | Windows | | 106.88 | 83.33% |
| 2020-11-01 | Windows | | 173.55 | 100.00% |
| 2020-10-16 | Windows | | 267.91 | 90.48% |
| 2020-10-16 | Windows | | 228.05 | 90.48% |
| 2020-10-16 | Windows | | 195.36 | 90.48% |
| 2020-10-11 | Mac OS | | 234.98 | 90.48% |
| 2020-09-07 | Windows | | 206.14 | 100.00% |
| 2020-09-02 | Android | | 128.96 | 100.00% |
| 2020-08-25 | Android | | 132.67 | 100.00% |
| 2020-08-23 | Windows | | 878.20 | 100.00% |
| 2020-08-20 | Windows | | 306.51 | 100.00% |
| 2020-08-14 | Mac OS | | 554.93 | 100.00% |
| 2020-08-06 | Windows | | 269.19 | 97.62% |
| 2020-07-27 | iOS | | 320.43 | 100.00% |
| 2020-07-24 | Windows | | 192.65 | 100.00% |
| 2020-07-21 | Windows | | 85.75 | 100.00% |
| 2020-07-19 | Windows | | 224.87 | 100.00% |
| 2020-07-16 | Mac OS | | 354.82 | 100.00% |
| 2020-07-14 | Mac OS | | 1053.24 | 90.48% |
| 2020-07-07 | iOS | | 323.53 | 80.95% |
| 2020-07-07 | Windows | | 670.76 | 100.00% |
| 2020-05-14 | iOS | | 151.93 | 100.00% |
| 2020-04-24 | Android | | 321.85 | 100.00% |
| 2020-04-19 | Mac OS | | 87.05 | 95.24% |
| 2020-04-04 | Mac OS | | 165.76 | 95.24% |
| 2020-04-01 | Windows | | 168.91 | 100.00% |
| 2020-03-12 | Android | | 178.20 | 100.00% |
| 2020-03-09 | Windows | | 54.20 | 100.00% |
| 2020-02-26 | Linux | | 102.31 | 97.62% |
| 2020-02-25 | Windows | | 413.62 | 100.00% |
| 2020-02-22 | Windows | | 225.08 | 100.00% |
| 2020-02-15 | Mac OS | | 225.33 | 90.48% |
| 2020-02-15 | Mac OS | | 187.77 | 90.48% |
| 2020-02-06 | Windows | | 41.98 | 90.48% |
| 2020-01-31 | Windows | | 610.88 | 100.00% |
| 2020-01-31 | Mac OS | | 281.36 | 78.57% |
| 2020-01-13 | Android | | 194.53 | 95.24% |
| 2020-01-13 | Windows | | 256.97 | 95.24% |
| 2019-12-30 | Android | | 398.73 | 80.95% |
| 2019-12-05 | Windows | | 195.38 | 100.00% |
| 2019-11-19 | Windows | | 419.31 | 100.00% |
| 2019-11-14 | Windows | | 117.85 | 100.00% |
| 2019-11-06 | Mac OS | | 213.90 | 42.86% |
| 2019-10-22 | Windows | | 761.09 | 100.00% |
| 2019-09-10 | Windows | | 371.65 | 71.43% |
| 2019-09-02 | Linux | | 711.73 | 90.48% |
| 2019-08-26 | Windows | | 396.33 | 97.62% |
| 2019-08-10 | Windows | | 172.40 | 100.00% |
| 2019-08-06 | iOS | | 88.25 | 100.00% |
| 2019-08-05 | Windows | | 360.62 | 100.00% |
| 2019-06-23 | Windows | | 118.32 | 88.10% |
| 2019-06-11 | Windows | | 176.57 | 100.00% |
| 2019-05-06 | iOS | | 351.25 | 100.00% |
| 2019-05-03 | Mac OS | | 239.03 | 100.00% |
| 2019-04-20 | Windows | | 290.73 | 90.48% |
| 2019-04-12 | Windows | | 211.55 | 83.33% |
| 2019-04-10 | Windows | | 443.50 | 100.00% |
| 2019-04-06 | Android | | 47.30 | 92.86% |
| 2019-03-29 | Windows | | 343.61 | 95.24% |
| 2019-03-24 | Windows | | 391.97 | 100.00% |
| 2019-03-21 | Windows | | 239.25 | 100.00% |
| 2019-03-09 | iOS | | 504.33 | 100.00% |
| 2019-03-07 | Windows | | 181.22 | 97.62% |
| 2019-03-07 | Windows | | 159.09 | 100.00% |
| 2019-03-07 | Mac OS | | 325.38 | 100.00% |
| 2019-03-07 | Mac OS | | 448.51 | 100.00% |
| 2019-03-07 | Mac OS | | 1183.51 | 100.00% |
| 2019-02-28 | Windows | | 302.24 | 100.00% |
| 2019-02-28 | Windows | | 214.84 | 100.00% |
| 2019-02-24 | Windows | | 182.68 | 100.00% |
| 2019-02-21 | Windows | | 258.93 | 100.00% |
| 2019-02-21 | Windows | | 163.96 | 100.00% |
| 2019-02-21 | Windows | | 215.82 | 100.00% |
| 2019-02-21 | Windows | | 218.00 | 100.00% |
| 2019-02-20 | Windows | | 175.05 | 100.00% |
| 2019-02-20 | Windows | | 177.59 | 100.00% |
| 2019-02-20 | Windows | | 144.15 | 100.00% |
| 2019-02-20 | Mac OS | | 280.52 | 100.00% |
| 2019-02-19 | Windows | | 977.67 | 100.00% |
| 2019-02-19 | Android | | 919.05 | 100.00% |
| 2019-02-17 | Android | | 258.24 | 100.00% |
| 2019-02-17 | Windows | | 764.25 | 100.00% |
| 2019-01-30 | Windows | | 159.97 | 100.00% |
| 2019-01-28 | Windows | | 198.75 | 100.00% |
| 2019-01-25 | Windows | | 227.91 | 100.00% |
| 2019-01-25 | Windows | | 238.07 | 100.00% |
| 2019-01-25 | Windows | | 231.17 | 100.00% |
| 2019-01-25 | Windows | | 248.53 | 100.00% |
| 2019-01-25 | Windows | | 203.45 | 100.00% |
| 2019-01-25 | Windows | | 289.55 | 100.00% |
| 2019-01-25 | Windows | | 275.34 | 100.00% |
| 2019-01-25 | Windows | | 177.29 | 100.00% |
| 2019-01-25 | Windows | | 142.59 | 100.00% |
| 2019-01-25 | Windows | | 238.98 | 100.00% |
| 2019-01-25 | Windows | | 316.63 | 100.00% |
| 2019-01-25 | Windows | | 324.86 | 97.62% |
| 2019-01-25 | Windows | | 308.66 | 100.00% |
| 2019-01-25 | Windows | | 358.55 | 100.00% |
| 2019-01-25 | Windows | | 286.98 | 100.00% |
| 2019-01-25 | Windows | | 311.38 | 100.00% |
| 2019-01-25 | Windows | | 188.61 | 100.00% |
| 2019-01-25 | Windows | | 281.42 | 100.00% |
| 2019-01-25 | Windows | | 390.57 | 100.00% |
| 2019-01-25 | Windows | | 291.88 | 100.00% |
| 2019-01-25 | Windows | | 322.34 | 100.00% |
| 2019-01-25 | Windows | | 173.14 | 100.00% |
| 2019-01-24 | Windows | | 93.68 | 97.62% |
| 2019-01-15 | Windows | | 237.61 | 100.00% |
| 2019-01-15 | Windows | | 244.93 | 100.00% |
| 2019-01-15 | Windows | | 281.99 | 100.00% |
| 2019-01-14 | Windows | | 108.68 | 100.00% |
| 2019-01-14 | Windows | | 103.61 | 100.00% |
| 2019-01-12 | iOS | | 225.42 | 100.00% |
| 2019-01-11 | Windows | | 338.31 | 100.00% |
| 2019-01-09 | Windows | | 171.73 | 100.00% |
| 2019-01-08 | Windows | | 202.57 | 100.00% |
| 2019-01-08 | Windows | | 343.24 | 100.00% |
| 2019-01-08 | Windows | | 322.43 | 100.00% |
| 2019-01-08 | Windows | | 217.95 | 100.00% |
| 2019-01-08 | Windows | | 263.28 | 100.00% |
| 2019-01-08 | Windows | | 220.00 | 100.00% |
| 2019-01-08 | Windows | | 309.61 | 100.00% |
| 2019-01-08 | Windows | | 229.17 | 100.00% |
| 2019-01-08 | Windows | | 236.71 | 100.00% |
| 2019-01-08 | Windows | | 219.98 | 100.00% |
| 2019-01-08 | Windows | | 194.91 | 100.00% |
| 2019-01-08 | Windows | | 298.09 | 100.00% |
| 2019-01-08 | Windows | | 379.07 | 100.00% |
| 2019-01-08 | Windows | | 144.46 | 88.10% |
| 2019-01-08 | Windows | | 102.57 | 97.62% |
| 2019-01-08 | Windows | | 128.44 | 97.62% |
| 2019-01-08 | Windows | | 270.44 | 100.00% |
| 2019-01-08 | Windows | | 307.90 | 100.00% |
| 2019-01-08 | Windows | | 126.38 | 97.62% |
| 2019-01-08 | Windows | | 245.73 | 100.00% |
| 2019-01-08 | Windows | | 264.86 | 100.00% |
| 2019-01-08 | Windows | | 263.16 | 100.00% |
| 2019-01-08 | Windows | | 333.70 | 100.00% |
| 2019-01-08 | Windows | | 389.05 | 100.00% |
| 2019-01-08 | Windows | | 388.66 | 100.00% |
| 2019-01-08 | Windows | | 264.15 | 100.00% |
| 2019-01-08 | Windows | | 282.31 | 100.00% |
| 2019-01-08 | Windows | | 117.81 | 100.00% |
| 2019-01-08 | Windows | | 285.26 | 100.00% |
| 2019-01-08 | Windows | | 135.13 | 100.00% |
| 2019-01-08 | Windows | | 248.75 | 100.00% |
| 2019-01-08 | Windows | | 253.83 | 100.00% |
| 2019-01-08 | Windows | | 272.97 | 100.00% |
| 2019-01-08 | Windows | | 282.94 | 100.00% |
| 2019-01-08 | Windows | | 219.20 | 100.00% |
| 2019-01-07 | Windows | | 274.06 | 100.00% |
| 2019-01-07 | Android | | 184.27 | 100.00% |
| 2019-01-07 | Windows | | 222.91 | 100.00% |
| 2018-12-25 | Windows | | 326.19 | 85.71% |
| 2018-12-24 | Windows | | 300.40 | 100.00% |
| 2018-12-24 | Windows | | 109.81 | 95.24% |
| 2018-12-16 | Windows | | 256.15 | 100.00% |
| 2018-12-06 | Android | | 129.49 | 100.00% |
| 2018-11-28 | Windows | | 292.48 | 100.00% |
| 2018-11-26 | Windows | | 234.42 | 100.00% |
| 2018-11-26 | Windows | | 381.32 | 100.00% |
| 2018-11-26 | Windows | | 194.00 | 100.00% |
| 2018-11-24 | Windows | | 200.43 | 100.00% |
| 2018-11-23 | Mac OS | | 321.55 | 100.00% |
| 2018-11-22 | Mac OS | | 1039.56 | 100.00% |
| 2018-11-18 | Android | | 109.53 | 97.62% |
| 2018-11-17 | Windows | | 386.60 | 100.00% |
| 2018-11-16 | Windows | | 216.21 | 100.00% |
| 2018-11-15 | iOS | | 336.34 | 95.24% |
| 2018-11-15 | iOS | | 247.79 | 95.24% |
| 2018-11-15 | Windows | | 438.14 | 95.24% |
| 2018-11-15 | Windows | | 383.17 | 95.24% |
| 2018-11-13 | Mac OS | | 534.12 | 85.71% |
| 2018-11-11 | Windows | | 357.33 | 95.24% |
| 2018-11-09 | Windows | | 339.86 | 95.24% |
| 2018-11-07 | Windows | | 376.37 | 100.00% |
| 2018-11-05 | Windows | | 320.09 | 95.24% |
| 2018-11-04 | Windows | | 267.39 | 100.00% |
| 2018-11-04 | Windows | | 228.51 | 100.00% |
| 2018-11-01 | Mac OS | | 581.05 | 100.00% |
| 2018-10-24 | Windows | | 946.40 | 100.00% |
| 2018-10-19 | Windows | | 733.82 | 100.00% |
| 2018-10-19 | Windows | | 698.38 | 100.00% |
| 2018-10-15 | Windows | | 567.09 | 100.00% |
| 2018-10-15 | Mac OS | | 1082.52 | 100.00% |
| 2018-10-14 | Android | | 286.67 | 97.62% |
| 2018-10-13 | Windows | | 304.72 | 97.62% |
| 2018-10-08 | Mac OS | | 231.29 | 100.00% |
| 2018-10-07 | Windows | | 299.21 | 100.00% |
| 2018-10-04 | Windows | | 415.82 | 97.62% |
| 2018-10-03 | Windows | | 3003.20 | 100.00% |
| 2018-10-02 | Windows | | 228.06 | 100.00% |
| 2018-09-30 | Mac OS | | 839.17 | 100.00% |
| 2018-09-27 | Mac OS | | 330.03 | 95.24% |
| 2018-09-13 | Windows | | 591.58 | 100.00% |
| 2018-09-13 | Windows | | 104.24 | 100.00% |
| 2018-09-10 | Windows | | 595.74 | 100.00% |
| 2018-09-10 | Windows | | 324.41 | 100.00% |
| 2018-09-10 | Windows | | 1030.41 | 100.00% |
| 2018-09-09 | Windows | | 489.32 | 85.71% |
| 2018-09-08 | Windows | | 567.56 | 100.00% |
| 2018-09-06 | Mac OS | | 275.51 | 100.00% |
| 2018-09-06 | Mac OS | | 137.59 | 100.00% |
| 2018-09-04 | Windows | | 779.87 | 100.00% |
| 2018-09-03 | Windows | | 552.00 | 100.00% |
| 2018-08-29 | Windows | | 201.72 | 97.62% |
| 2018-08-27 | Windows | | 379.87 | 100.00% |
| 2018-08-20 | Windows | | 2993.08 | 100.00% |
| 2018-08-20 | Windows | | 2263.60 | 100.00% |
| 2018-08-20 | Windows | | 601.08 | 100.00% |
| 2018-08-18 | Windows | | 886.95 | 100.00% |
| 2018-08-17 | Windows | | 973.93 | 100.00% |
| 2018-08-17 | Windows | | 712.33 | 100.00% |
| 2018-08-17 | Android | | 689.28 | 100.00% |
| 2018-08-17 | Android | | 576.04 | 100.00% |
| 2018-08-17 | Windows | | 514.91 | 100.00% |
| 2018-08-17 | Android | | 243.75 | 100.00% |
| 2018-08-17 | Windows | | 529.80 | 100.00% |
| 2018-08-17 | Android | | 320.97 | 97.62% |
| 2018-08-17 | Android | | 305.12 | 100.00% |
| 2018-08-17 | Windows | | 483.72 | 100.00% |
| 2018-08-17 | Windows | | 315.61 | 100.00% |
| 2018-08-17 | Windows | | 274.30 | 100.00% |
| 2018-08-17 | Windows | | 190.81 | 100.00% |
| 2018-08-17 | Windows | | 466.44 | 100.00% |
| 2018-08-17 | Windows | | 331.67 | 100.00% |
| 2018-08-17 | Windows | | 215.36 | 100.00% |
| 2018-08-17 | Windows | | 236.21 | 100.00% |
| 2018-08-17 | Windows | | 224.99 | 100.00% |
| 2018-08-11 | Windows | | 328.77 | 85.71% |
| 2018-08-10 | Windows | | 126.72 | 100.00% |
| 2018-08-10 | Mac OS | | 168.64 | 100.00% |
| 2018-08-10 | Android | | 337.57 | 100.00% |
| 2018-08-09 | Windows | | 289.66 | 100.00% |
| 2018-08-09 | Windows | | 205.83 | 100.00% |
| 2018-08-07 | Windows | | 109.36 | 100.00% |
| 2018-08-07 | Windows | | 338.67 | 100.00% |
| 2018-08-07 | Windows | | 103.18 | 95.24% |
| 2018-08-07 | Windows | | 63.40 | 95.24% |
| 2018-08-06 | Windows | | 519.20 | 100.00% |
| 2018-08-06 | Windows | | 392.87 | 100.00% |
| 2018-08-06 | Windows | | 480.40 | 100.00% |
| 2018-08-05 | Mac OS | | 412.89 | 100.00% |
| 2018-08-03 | Windows | | 129.97 | 95.24% |
| 2018-08-03 | Windows | | 93.24 | 97.62% |
| 2018-08-02 | Windows | | 408.43 | 100.00% |
| 2018-07-31 | Linux | | 162.78 | 69.05% |
| 2018-07-29 | Windows | | 801.37 | 100.00% |
| 2018-07-25 | Windows | | 2434.48 | 100.00% |
| 2018-07-24 | Windows | | 308.02 | 100.00% |
| 2018-07-23 | Windows | | 255.49 | 100.00% |
| 2018-07-19 | Mac OS | | 163.26 | 100.00% |
| 2018-07-19 | iOS | | 129.04 | 100.00% |
| 2018-07-17 | Windows | | 311.32 | 100.00% |
| 2018-07-17 | Android | | 446.36 | 100.00% |
| 2018-07-12 | Linux | | 572.78 | 100.00% |
| 2018-07-11 | Windows | | 2249.82 | 100.00% |
| 2018-07-08 | Windows | | 323.39 | 97.62% |
| 2018-07-07 | Windows | | 240.25 | 100.00% |
| 2018-07-05 | Windows | | 2015.63 | 100.00% |
| 2018-07-03 | Windows | | 280.57 | 100.00% |
| 2018-06-29 | Windows | | 241.83 | 97.62% |
| 2018-06-28 | Mac OS | | 2876.24 | 100.00% |
| 2018-06-28 | Mac OS | | 2798.58 | 100.00% |
| 2018-06-28 | Mac OS | | 2704.35 | 100.00% |
| 2018-06-28 | Windows | | 2393.05 | 100.00% |
| 2018-06-26 | Windows | | 1811.34 | 100.00% |
| 2018-06-25 | Windows | | 263.73 | 100.00% |
| 2018-06-23 | iOS | | 161.51 | 100.00% |
| 2018-06-23 | Windows | | 458.46 | 100.00% |
| 2018-06-21 | Windows | | 444.11 | 100.00% |
| 2018-06-21 | Windows | | 527.87 | 100.00% |
| 2018-06-20 | Windows | | 324.55 | 100.00% |
| 2018-06-19 | Windows | | 347.07 | 95.24% |
| 2018-06-19 | Windows | | 608.33 | 100.00% |
| 2018-06-18 | Windows | | 401.29 | 100.00% |
| 2018-06-13 | Windows | | 546.77 | 100.00% |
| 2018-06-12 | Windows | | 340.74 | 100.00% |
| 2018-06-12 | Windows | | 179.18 | 100.00% |
| 2018-06-12 | Windows | | 221.98 | 100.00% |
| 2018-06-12 | Windows | | 291.99 | 100.00% |
| 2018-06-09 | Mac OS | | 586.39 | 100.00% |
| 2018-06-04 | Windows | | 418.38 | 100.00% |
| 2018-06-03 | Mac OS | | 137.39 | 95.24% |
| 2018-06-02 | Windows | | 342.94 | 100.00% |
| 2018-06-01 | Windows | | 254.76 | 100.00% |
| 2018-05-30 | Windows | | 157.18 | 97.62% |
| 2018-05-29 | Windows | | 307.17 | 100.00% |
| 2018-05-25 | Windows | | 475.79 | 100.00% |
| 2018-05-18 | Windows | | 64.68 | 100.00% |
| 2018-05-18 | Windows | | 72.38 | 100.00% |
| 2018-05-17 | Windows | | 240.17 | 100.00% |
| 2018-05-16 | Windows | | 173.45 | 100.00% |
| 2018-05-09 | Windows | | 401.08 | 100.00% |
| 2018-05-05 | Windows | | 402.51 | 54.76% |
| 2018-05-03 | Mac OS | | 231.67 | 100.00% |
| 2018-05-03 | Android | | 487.76 | 100.00% |
| 2018-05-03 | Android | | 142.87 | 100.00% |
| 2018-04-24 | Windows | | 520.98 | 100.00% |
| 2018-04-16 | Windows | | 507.47 | 100.00% |
| 2018-04-15 | Windows | | 968.23 | 100.00% |
| 2018-04-15 | Windows | | 254.99 | 100.00% |
| 2018-04-08 | Windows | | 144.41 | 100.00% |
| 2018-03-28 | Windows | | 960.00 | 100.00% |
| 2018-03-25 | Windows | | 541.78 | 100.00% |
| 2018-03-24 | Windows | | 238.93 | 100.00% |
| 2018-03-22 | iOS | | 182.55 | 100.00% |
| 2018-03-17 | Windows | | 319.88 | 92.86% |
| 2018-03-17 | Windows | | 496.83 | 100.00% |
| 2018-03-16 | Windows | | 648.44 | 100.00% |
| 2018-03-16 | Android | | 271.20 | 100.00% |
| 2018-03-16 | Windows | | 807.18 | 100.00% |
| 2018-03-16 | Windows | | 513.79 | 100.00% |
| 2018-03-13 | Windows | | 359.19 | 100.00% |
| 2018-03-13 | Windows | | 607.01 | 100.00% |
| 2018-03-08 | Windows | | 970.12 | 100.00% |
| 2018-03-05 | Windows | | 2989.76 | 100.00% |
| 2018-03-04 | Windows | | 431.25 | 100.00% |
| 2018-03-04 | Windows | | 625.33 | 100.00% |
| 2018-03-04 | Windows | | 562.82 | 100.00% |
| 2018-03-04 | Windows | | 505.86 | 100.00% |
| 2018-03-02 | Windows | | 227.41 | 100.00% |
| 2018-03-02 | Windows | | 184.75 | 100.00% |
| 2018-03-02 | Windows | | 166.75 | 100.00% |
| 2018-03-02 | Windows | | 0.00 | 0.00% |
| 2018-02-28 | iOS | | 295.16 | 80.95% |
| 2018-02-28 | Windows | | 219.20 | 97.62% |
| 2018-02-28 | Mac OS | | 669.30 | 100.00% |
| 2018-02-26 | Windows | | 341.35 | 100.00% |
| 2018-02-25 | Windows | | 506.04 | 100.00% |
| 2018-02-25 | iOS | | 466.52 | 100.00% |
| 2018-02-25 | Android | | 344.92 | 100.00% |
| 2018-02-19 | Windows | | 3250.64 | 100.00% |
| 2018-02-19 | Windows | | 685.65 | 100.00% |
| 2018-02-14 | iOS | | 288.23 | 100.00% |
| 2018-02-14 | Windows | | 178.04 | 100.00% |
| 2018-02-05 | Android | | 793.32 | 100.00% |
| 2018-02-05 | Windows | | 296.30 | 100.00% |
| 2018-02-03 | iOS | | 428.17 | 100.00% |
| 2018-02-03 | Windows | | 237.22 | 100.00% |
| 2018-02-02 | Windows | | 508.97 | 100.00% |
| 2018-02-02 | Windows | | 518.91 | 100.00% |
| 2018-02-02 | Windows | | 353.32 | 100.00% |
| 2018-02-01 | Windows | | 357.78 | 100.00% |
| 2018-01-28 | Android | | 1915.48 | 100.00% |
| 2018-01-28 | Windows | | 1576.78 | 100.00% |
| 2018-01-25 | Windows | | 233.91 | 100.00% |
| 2018-01-24 | Windows | | 652.20 | 100.00% |
| 2018-01-23 | Windows | | 2663.64 | 100.00% |
| 2018-01-21 | Windows | | 152.47 | 100.00% |
| 2018-01-21 | Windows | | 179.59 | 100.00% |
| 2018-01-20 | Windows | | 1266.58 | 100.00% |
| 2018-01-19 | Windows | | 297.83 | 100.00% |
| 2018-01-19 | Windows | | 375.78 | 100.00% |
| 2018-01-16 | Windows | | 407.37 | 100.00% |
| 2018-01-14 | Windows | | 342.71 | 100.00% |
| 2018-01-10 | Windows | | 275.08 | 100.00% |
| 2018-01-06 | Windows | | 308.68 | 100.00% |
| 2018-01-06 | Android | | 188.85 | 100.00% |
| 2018-01-05 | Windows | | 435.91 | 100.00% |
| 2018-01-02 | Windows | | 424.58 | 100.00% |
| 2018-01-02 | Windows | | 350.34 | 100.00% |
| 2018-01-02 | Windows | | 1726.69 | 100.00% |
| 2017-12-31 | Windows | | 638.81 | 90.48% |
| 2017-12-27 | Windows | | 299.96 | 100.00% |
| 2017-12-27 | Mac OS | | 828.84 | 100.00% |
| 2017-12-25 | Windows | | 331.77 | 100.00% |
| 2017-12-25 | Windows | | 195.87 | 100.00% |
| 2017-12-23 | Windows | | 239.21 | 100.00% |
| 2017-12-22 | Mac OS | | 367.34 | 100.00% |
| 2017-12-21 | Windows | | 246.64 | 100.00% |
| 2017-12-21 | Windows | | 154.85 | 100.00% |
| 2017-12-18 | Windows | | 163.91 | 100.00% |
| 2017-12-18 | Windows | | 282.67 | 100.00% |
| 2017-12-18 | Windows | | 130.64 | 100.00% |
| 2017-12-16 | Windows | | 604.04 | 100.00% |
| 2017-12-16 | Android | | 829.49 | 100.00% |
| 2017-12-15 | Windows | | 127.46 | 97.62% |
| 2017-12-15 | Android | | 118.19 | 100.00% |
| 2017-12-12 | Windows | | 2467.23 | 100.00% |
| 2017-12-12 | Windows | | 131.57 | 100.00% |
| 2017-12-11 | Android | | 3064.24 | 100.00% |
| 2017-12-11 | Windows | | 2727.41 | 100.00% |
| 2017-12-10 | Windows | | 576.07 | 100.00% |
| 2017-12-10 | Windows | | 509.32 | 100.00% |
| 2017-12-08 | Android | | 990.57 | 100.00% |
| 2017-12-08 | Android | | 1160.79 | 100.00% |
| 2017-12-08 | Windows | | 1607.82 | 100.00% |
| 2017-12-05 | Windows | | 4436.70 | 100.00% |
| 2017-12-05 | Android | | 2923.24 | 100.00% |
| 2017-12-04 | Windows | | 542.86 | 100.00% |
| 2017-12-04 | Windows | | 281.96 | 97.62% |
| 2017-12-04 | Windows | | 313.72 | 100.00% |
| 2017-12-03 | iOS | | 560.30 | 100.00% |
| 2017-12-03 | Windows | | 497.52 | 100.00% |
| 2017-11-30 | Android | | 227.99 | 100.00% |
| 2017-11-29 | Windows | | 513.47 | 100.00% |
| 2017-11-29 | Windows | | 169.67 | 100.00% |
| 2017-11-28 | Mac OS | | 515.72 | 100.00% |
| 2017-11-28 | Windows | | 101.18 | 100.00% |
| 2017-11-28 | Windows | | 131.72 | 100.00% |
| 2017-11-27 | Windows | | 492.95 | 100.00% |
| 2017-11-25 | Mac OS | | 346.27 | 100.00% |
| 2017-11-24 | Windows | | 549.59 | 100.00% |
| 2017-11-24 | Windows | | 529.95 | 100.00% |
| 2017-11-23 | Windows | | 182.55 | 100.00% |
| 2017-11-22 | Mac OS | | 437.91 | 100.00% |
| 2017-11-21 | Mac OS | | 418.83 | 100.00% |
| 2017-11-20 | Windows | | 695.55 | 100.00% |
| 2017-11-20 | iOS | | 734.58 | 80.95% |
| 2017-11-18 | Windows | | 549.58 | 100.00% |
| 2017-11-18 | Mac OS | | 429.46 | 100.00% |
| 2017-11-18 | Mac OS | | 483.47 | 100.00% |
| 2017-11-18 | iOS | | 423.06 | 78.57% |
| 2017-11-18 | iOS | | 537.86 | 80.95% |
| 2017-11-18 | Windows | | 389.08 | 100.00% |
| 2017-11-15 | Mac OS | | 410.79 | 100.00% |
| 2017-11-14 | Windows | | 362.35 | 100.00% |
| 2017-11-14 | Windows | | 612.38 | 100.00% |
| 2017-11-14 | Mac OS | | 497.94 | 100.00% |
| 2017-11-13 | Windows | | 447.62 | 97.62% |
| 2017-11-08 | Windows | | 137.44 | 100.00% |
| 2017-11-04 | Windows | | 166.69 | 100.00% |
| 2017-11-04 | Android | | 109.87 | 92.86% |
| 2017-11-04 | Windows | | 193.55 | 100.00% |
| 2017-11-04 | Windows | | 178.74 | 100.00% |
| 2017-11-03 | Windows | | 161.13 | 100.00% |
| 2017-11-02 | Windows | | 432.60 | 100.00% |
| 2017-11-02 | Windows | | 449.30 | 100.00% |
| 2017-11-02 | Windows | | 172.35 | 97.62% |
| 2017-11-02 | Mac OS | | 205.45 | 100.00% |
| 2017-11-02 | Windows | | 369.79 | 100.00% |
| 2017-11-02 | Windows | | 510.12 | 100.00% |
| 2017-11-01 | Windows | | 352.01 | 100.00% |
| 2017-11-01 | Windows | | 525.63 | 100.00% |
| 2017-11-01 | Windows | | 667.62 | 100.00% |
| 2017-11-01 | Windows | | 315.61 | 100.00% |
| 2017-11-01 | Windows | | 370.43 | 100.00% |
| 2017-10-30 | Windows | | 430.81 | 100.00% |
| 2017-10-30 | Windows | | 341.96 | 100.00% |
| 2017-10-29 | iOS | | 426.33 | 100.00% |
| 2017-10-28 | Windows | | 212.36 | 95.24% |
| 2017-10-27 | Windows | | 306.88 | 100.00% |
| 2017-10-23 | Mac OS | | 77.32 | 95.24% |
| 2017-10-22 | iOS | | 377.78 | 100.00% |
| 2017-10-22 | iOS | | 626.01 | 100.00% |
| 2017-10-22 | iOS | | 367.60 | 100.00% |
| 2017-10-22 | iOS | | 532.65 | 100.00% |
| 2017-10-20 | Windows | | 805.10 | 100.00% |
| 2017-10-19 | iOS | | 320.21 | 95.24% |
| 2017-10-19 | Android | | 382.16 | 100.00% |
| 2017-10-15 | Mac OS | | 1129.19 | 76.19% |
| 2017-10-14 | iOS | | 505.56 | 95.24% |
| 2017-10-13 | Android | | 150.83 | 61.90% |
| 2017-10-13 | Android | | 604.76 | 90.48% |
| 2017-10-12 | Windows | | 371.30 | 90.48% |
| 2017-10-11 | Android | | 226.65 | 80.95% |
| 2017-10-10 | Android | | 672.23 | 90.48% |
| 2017-09-30 | Windows | | 109.17 | 90.48% |
| 2017-09-29 | Android | | 392.40 | 90.48% |
| 2017-09-28 | Windows | | 349.87 | 90.48% |
| 2017-09-26 | Mac OS | | 169.38 | 90.48% |
| 2017-09-24 | Windows | | 76.66 | 100.00% |
| 2017-09-24 | Windows | | 1345.39 | 100.00% |
| 2017-09-23 | Mac OS | | 312.16 | 100.00% |
| 2017-09-23 | Mac OS | | 229.44 | 100.00% |
| 2017-09-13 | Mac OS | | 334.07 | 100.00% |
| 2017-09-12 | Windows | | 192.92 | 100.00% |
| 2017-09-04 | Windows | | 350.36 | 100.00% |
| 2017-09-04 | Windows | | 818.44 | 100.00% |
| 2017-08-29 | Mac OS | | 89.35 | 97.62% |
| 2017-08-29 | Windows | | 620.05 | 100.00% |
| 2017-08-22 | Windows | | 325.56 | 100.00% |
| 2017-08-21 | Windows | | 199.89 | 100.00% |
| 2017-08-12 | Windows | | 54.33 | 90.48% |
| 2017-08-03 | Linux | | 463.00 | 100.00% |
| 2017-08-02 | iOS | | 742.80 | 100.00% |
| 2017-08-01 | Windows | | 535.26 | 100.00% |
| 2017-07-31 | Windows | | 281.55 | 100.00% |
| 2017-07-31 | Windows | | 292.17 | 100.00% |
| 2017-07-29 | Windows | | 1358.38 | 100.00% |
| 2017-07-28 | Windows | | 183.36 | 100.00% |
| 2017-07-24 | Windows | | 1182.79 | 100.00% |
| 2017-07-21 | Windows | | 187.89 | 97.62% |
| 2017-07-13 | iOS | | 104.75 | 100.00% |
| 2017-07-12 | Windows | | 845.25 | 100.00% |
| 2017-07-10 | Windows | | 1953.43 | 100.00% |
| 2017-07-08 | Windows | | 1137.68 | 100.00% |
| 2017-07-08 | Windows | | 972.42 | 100.00% |
| 2017-07-06 | Windows | | 187.66 | 100.00% |
| 2017-07-05 | Windows | | 131.76 | 100.00% |
| 2017-07-04 | Windows | | 279.05 | 100.00% |
| 2017-07-03 | Windows | | 549.40 | 100.00% |
| 2017-07-03 | Windows | | 565.23 | 100.00% |
| 2017-07-02 | Mac OS | | 112.19 | 97.62% |
| 2017-07-02 | Mac OS | | 90.04 | 100.00% |
| 2017-06-30 | Windows | | 1815.47 | 100.00% |
| 2017-06-26 | Windows | | 931.36 | 100.00% |
| 2017-06-23 | Windows | | 33.38 | 80.95% |
| 2017-06-22 | Windows | | 254.21 | 100.00% |
| 2017-06-17 | Windows | | 465.60 | 100.00% |
| 2017-06-13 | Windows | | 180.05 | 100.00% |
| 2017-05-10 | Windows | | 1556.25 | 100.00% |
| 2017-05-10 | Windows | | 1588.82 | 100.00% |
| 2017-05-10 | Windows | | 1371.07 | 100.00% |
| 2017-04-30 | Windows | | 146.97 | 100.00% |
| 2017-04-27 | Mac OS | | 233.03 | 100.00% |
| 2017-04-25 | Windows | | 458.41 | 100.00% |
| 2017-04-23 | Mac OS | | 410.74 | 100.00% |
| 2017-04-15 | Windows | | 100.67 | 100.00% |
| 2017-04-11 | Windows | | 366.77 | 100.00% |
| 2017-04-06 | Windows | | 554.27 | 100.00% |
| 2017-03-31 | Windows | | 321.25 | 100.00% |
| 2017-03-27 | Mac OS | | 271.11 | 90.48% |
| 2017-03-27 | Windows | | 267.25 | 100.00% |
| 2017-03-23 | Windows | | 281.23 | 95.24% |
| 2017-03-22 | Windows | | 147.81 | 100.00% |
| 2017-03-20 | Mac OS | | 451.37 | 100.00% |
| 2017-03-20 | Android | | 213.18 | 100.00% |
| 2017-03-19 | Mac OS | | 90.83 | 83.33% |
| 2017-03-14 | Windows | | 424.20 | 100.00% |
| 2017-03-12 | Windows | | 193.07 | 100.00% |
| 2017-03-11 | Windows | | 307.74 | 100.00% |
| 2017-03-11 | iOS | | 792.90 | 100.00% |
| 2017-03-09 | Windows | | 408.99 | 100.00% |
| 2017-03-09 | Windows | | 375.63 | 100.00% |
| 2017-03-09 | Windows | | 489.98 | 100.00% |
| 2017-03-08 | Windows | | 1611.49 | 100.00% |
| 2017-03-05 | Mac OS | | 180.03 | 85.71% |
| 2017-02-22 | Windows | | 1431.12 | 100.00% |
| 2017-02-19 | Windows | | 448.73 | 100.00% |
| 2017-02-18 | Windows | | 641.33 | 95.24% |
| 2017-02-18 | Windows | | 435.17 | 95.24% |
| 2017-02-18 | Windows | | 371.47 | 95.24% |
| 2017-02-18 | Windows | | 344.73 | 95.24% |
| 2017-02-18 | Mac OS | | 69.39 | 100.00% |
| 2017-02-18 | Mac OS | | 94.59 | 95.24% |
| 2017-02-16 | Windows | | 366.19 | 100.00% |
| 2017-02-16 | Windows | | 282.01 | 100.00% |
| 2017-02-13 | Windows | | 1212.37 | 100.00% |
| 2017-02-10 | iOS | | 398.84 | 100.00% |
| 2017-02-02 | Mac OS | | 184.02 | 100.00% |
| 2017-02-02 | Windows | | 922.65 | 100.00% |
| 2017-01-31 | Mac OS | | 168.73 | 100.00% |
| 2017-01-30 | Windows | | 1558.09 | 100.00% |
| 2017-01-30 | Windows | | 203.71 | 100.00% |
| 2017-01-25 | Mac OS | | 246.21 | 100.00% |
| 2017-01-25 | Mac OS | | 79.47 | 100.00% |
| 2017-01-25 | Mac OS | | 102.85 | 100.00% |
| 2017-01-24 | Windows | | 1119.74 | 100.00% |
| 2017-01-24 | Mac OS | | 126.18 | 92.86% |
| 2017-01-22 | Mac OS | | 367.85 | 100.00% |
| 2017-01-21 | Mac OS | | 239.84 | 100.00% |
| 2017-01-21 | Mac OS | | 217.99 | 100.00% |
| 2017-01-17 | Windows | | 463.67 | 95.24% |
| 2017-01-11 | Windows | | 100.64 | 100.00% |
| 2017-01-03 | iOS | | 2005.53 | 100.00% |
| 2017-01-03 | Windows | | 2021.04 | 100.00% |
| 2017-01-03 | Windows | | 1357.31 | 100.00% |
| 2017-01-01 | iOS | | 814.63 | 97.62% |
| 2016-12-31 | Mac OS | | 254.13 | 100.00% |
| 2016-12-28 | Windows | | 284.27 | 100.00% |
| 2016-12-22 | Windows | | 285.70 | 100.00% |
| 2016-12-04 | Windows | | 335.76 | 100.00% |
| 2016-12-03 | Mac OS | | 43.17 | 88.10% |
| 2016-12-02 | Windows | | 148.39 | 100.00% |
| 2016-12-02 | Windows | | 88.07 | 100.00% |
| 2016-11-28 | Windows | | 1058.03 | 100.00% |
| 2016-11-28 | Windows | | 225.29 | 100.00% |
| 2016-11-24 | iOS | | 148.97 | 97.62% |
| 2016-11-23 | iOS | | 402.10 | 100.00% |
| 2016-11-14 | Mac OS | | 54.92 | 97.62% |
| 2016-11-09 | Windows | | 60.20 | 80.95% |
| 2016-11-07 | Windows | | 208.60 | 100.00% |
| 2016-11-04 | Android | | 564.60 | 100.00% |
| 2016-11-04 | Windows | | 903.68 | 100.00% |
| 2016-11-01 | Android | | 195.63 | 95.24% |
| 2016-11-01 | Windows | | 267.98 | 95.24% |
| 2016-10-31 | Android | | 808.22 | 100.00% |
| 2016-10-30 | iOS | | 87.03 | 100.00% |
| 2016-10-30 | iOS | | 142.64 | 95.24% |
| 2016-10-29 | iOS | | 255.93 | 100.00% |
| 2016-10-26 | Android | | 133.09 | 100.00% |
| 2016-10-26 | Android | | 183.47 | 100.00% |
| 2016-10-14 | Windows | | 216.27 | 97.62% |
| 2016-10-10 | Windows | | 292.41 | 100.00% |
| 2016-10-10 | Windows | | 357.37 | 100.00% |
| 2016-10-09 | iOS | | 227.34 | 100.00% |
| 2016-10-09 | iOS | | 261.21 | 100.00% |
| 2016-10-05 | Mac OS | | 76.13 | 95.24% |
| 2016-10-05 | Mac OS | | 73.48 | 100.00% |
| 2016-10-05 | Mac OS | | 150.64 | 100.00% |
| 2016-10-05 | Android | | 370.27 | 100.00% |
| 2016-10-04 | Android | | 391.91 | 100.00% |
| 2016-10-04 | Windows | | 1451.11 | 100.00% |
| 2016-10-03 | Windows | | 1377.62 | 100.00% |
| 2016-10-02 | iOS | | 514.00 | 100.00% |
| 2016-10-02 | Windows | | 1105.55 | 100.00% |
| 2016-10-02 | Windows | | 1124.01 | 100.00% |
| 2016-09-29 | iOS | | 667.03 | 100.00% |
| 2016-09-28 | iOS | | 410.05 | 100.00% |
| 2016-09-28 | Windows | | 344.52 | 100.00% |
| 2016-09-28 | Android | | 97.49 | 100.00% |
| 2016-09-27 | Android | | 395.40 | 100.00% |
| 2016-09-26 | Android | | 411.05 | 100.00% |
| 2016-09-25 | Android | | 377.91 | 100.00% |
| 2016-09-24 | Android | | 336.68 | 100.00% |
| 2016-09-22 | Android | | 287.52 | 100.00% |
| 2016-09-22 | Android | | 356.18 | 100.00% |
| 2016-09-22 | iOS | | 458.77 | 100.00% |
| 2016-09-22 | iOS | | 341.07 | 100.00% |
| 2016-09-18 | Windows | | 128.91 | 97.62% |
| 2016-09-16 | Android | | 283.86 | 92.86% |
| 2016-09-15 | Windows | | 1357.91 | 100.00% |
| 2016-09-15 | Windows | | 179.71 | 85.71% |
| 2016-09-11 | Windows | | 402.63 | 100.00% |
| 2016-09-11 | Linux | | 302.33 | 95.24% |
| 2016-09-11 | Windows | | 570.47 | 100.00% |
| 2016-09-05 | Android | | 368.27 | 100.00% |
| 2016-09-05 | Android | | 464.46 | 100.00% |
| 2016-09-05 | Android | | 404.35 | 100.00% |
| 2016-09-05 | Android | | 427.38 | 100.00% |
| 2016-09-05 | Android | | 405.17 | 100.00% |
| 2016-09-05 | Android | | 378.01 | 100.00% |
| 2016-09-05 | Android | | 272.90 | 100.00% |
| 2016-09-05 | Android | | 271.92 | 100.00% |
| 2016-09-03 | Windows | | 144.87 | 100.00% |
| 2016-09-03 | Windows | | 385.18 | 100.00% |
| 2016-09-03 | Windows | | 395.18 | 100.00% |
| 2016-09-01 | Windows | | 173.53 | 95.24% |
| 2016-08-29 | Windows | China (Mainland) 上海市 | 861.98 | 95.24% |
| 2016-08-29 | Windows | China (Mainland) 上海市 | 781.62 | 95.24% |
| 2016-08-26 | Windows | China (Mainland) 北京市 | 708.03 | 95.24% |
| 2016-08-26 | Windows | China (Mainland) 青海省 | 2106.25 | 95.24% |
| 2016-08-25 | Windows | China (Mainland) 山东省 | 1283.68 | 95.24% |
| 2016-08-24 | Windows | China (Mainland) 北京市 | 214.81 | 95.24% |
| 2016-08-21 | Android | 中国大陆 河北省 | 440.33 | 95.24% |
| 2016-08-21 | Android | 中国大陆 广东省 | 308.59 | 95.24% |
| 2016-08-21 | Android | 中国大陆 广东省 | 400.17 | 95.24% |
| 2016-08-21 | Android | 中国大陆 广东省 | 372.44 | 95.24% |
| 2016-08-21 | Android | 中国大陆 湖北省 | 403.70 | 95.24% |
| 2016-08-20 | Android | 中国大陆 河北省 | 346.30 | 95.24% |
| 2016-08-16 | Android | China (Mainland) 内蒙古自治区 | 1077.92 | 97.62% |
| 2016-08-16 | Android | 中国大陆 广东省 | 250.71 | 97.62% |
| 2016-08-16 | Android | 中国大陆 广东省 | 234.17 | 100.00% |
| 2016-08-16 | Android | 中国大陆 广东省 | 191.57 | 92.86% |
| 2016-08-15 | Windows | China (Mainland) 贵州省 | 1678.71 | 100.00% |
| 2016-08-13 | Windows | China (Mainland) 江苏省 | 780.97 | 100.00% |
| 2016-08-13 | Android | 中国大陆 广东省 | 396.27 | 100.00% |
| 2016-08-13 | Android | 中国大陆 广东省 | 430.37 | 100.00% |
| 2016-08-13 | Android | 中国大陆 广东省 | 395.21 | 100.00% |
| 2016-08-13 | Android | 中国大陆 广东省 | 415.87 | 100.00% |
| 2016-08-13 | Android | 中国大陆 广东省 | 325.78 | 100.00% |
| 2016-08-13 | Android | 中国大陆 广东省 | 307.72 | 100.00% |
| 2016-08-10 | Android | 中国大陆 广东省 | 144.42 | 64.29% |
| 2016-08-07 | Windows | 中国大陆 上海市 | 132.22 | 100.00% |
| 2016-08-07 | Android | 中国大陆 河北省 | 312.50 | 100.00% |
| 2016-08-06 | Android | China (Mainland) 吉林省 | 1146.96 | 100.00% |
| 2016-08-06 | Android | China (Mainland) 河南省 | 318.42 | 100.00% |
| 2016-08-06 | Android | China (Mainland) 北京市 | 1357.22 | 100.00% |
| 2016-08-06 | Android | China (Mainland) 北京市 | 317.00 | 100.00% |
| 2016-08-06 | Android | China (Mainland) 北京市 | 1322.14 | 100.00% |
| 2016-08-06 | Android | China (Mainland) 广西壮族自治区 | 1874.82 | 100.00% |
| 2016-08-06 | Android | China (Mainland) 福建省 | 2228.99 | 100.00% |
| 2016-08-06 | Windows | China (Mainland) 辽宁省 | 2041.24 | 100.00% |
| 2016-08-06 | Android | China (Mainland) 北京市 | 1708.46 | 100.00% |
| 2016-08-05 | Android | China (Mainland) 江苏省 | 1537.58 | 100.00% |
| 2016-08-05 | Android | China (Mainland) 湖北省 | 1532.68 | 100.00% |
| 2016-08-05 | Android | China (Mainland) 湖北省 | 1994.56 | 100.00% |
| 2016-08-05 | Windows | 中国大陆 北京市 | 371.14 | 100.00% |
| 2016-08-05 | Windows | 中国大陆 北京市 | 263.27 | 100.00% |
| 2016-08-05 | Windows | China (Mainland) 广西壮族自治区 | 1107.53 | 100.00% |
| 2016-08-04 | Android | China (Mainland) 北京市 | 2394.79 | 100.00% |
| 2016-08-04 | Android | China (Mainland) 北京市 | 1980.19 | 100.00% |
| 2016-08-04 | Android | 中国大陆 广东省 | 208.49 | 100.00% |
| 2016-08-04 | Android | 中国大陆 广东省 | 129.32 | 100.00% |
| 2016-08-04 | Android | 中国大陆 广东省 | 112.45 | 97.62% |
| 2016-08-02 | Android | 中国大陆 湖北省 | 220.98 | 100.00% |
| 2016-08-01 | Android | 中国大陆 广东省 | 143.72 | 80.95% |
| 2016-08-01 | Android | 中国大陆 河北省 | 396.37 | 100.00% |
| 2016-07-31 | Windows | China (Mainland) 内蒙古自治区 | 1135.67 | 100.00% |
| 2016-07-31 | Windows | China (Mainland) 黑龙江省 | 655.05 | 97.62% |
| 2016-07-30 | Windows | China (Mainland) | 361.79 | 100.00% |
| 2016-07-30 | Windows | China (Mainland) 广东省 | 1383.50 | 100.00% |
| 2016-07-30 | Windows | China (Mainland) 黑龙江省 | 1352.06 | 100.00% |
| 2016-07-30 | Windows | China (Mainland) 上海市 | 763.14 | 100.00% |
| 2016-07-28 | Android | 中国大陆 广东省 | 185.84 | 100.00% |
| 2016-07-28 | Android | 中国大陆 广东省 | 169.09 | 100.00% |
| 2016-07-28 | Android | 中国大陆 广东省 | 213.76 | 92.86% |
| 2016-07-23 | Windows | 中国大陆 上海市 | 68.05 | 92.86% |
| 2016-07-23 | Android | 中国大陆 广东省 | 314.64 | 100.00% |
| 2016-07-23 | Android | 中国大陆 广东省 | 230.93 | 100.00% |
| 2016-07-23 | Android | 中国大陆 广东省 | 427.43 | 100.00% |
| 2016-07-23 | Android | 中国大陆 广东省 | 404.31 | 100.00% |
| 2016-07-23 | Android | 中国大陆 广东省 | 323.24 | 100.00% |
| 2016-07-23 | Android | 中国大陆 广东省 | 333.33 | 100.00% |
| 2016-07-23 | Android | 中国大陆 广东省 | 260.24 | 100.00% |
| 2016-07-23 | Android | 中国大陆 广东省 | 255.74 | 100.00% |
| 2016-07-23 | Android | 中国大陆 广东省 | 252.15 | 100.00% |
| 2016-07-23 | Android | 中国大陆 广东省 | 176.86 | 100.00% |
| 2016-07-18 | Android | 中国大陆 广东省 | 171.27 | 100.00% |
| 2016-07-18 | Android | 中国大陆 广东省 | 206.83 | 100.00% |
| 2016-07-18 | Android | 中国大陆 广东省 | 315.92 | 100.00% |
| 2016-07-18 | Android | 中国大陆 广东省 | 154.55 | 100.00% |
| 2016-07-18 | Android | 中国大陆 广东省 | 161.75 | 100.00% |
| 2016-07-18 | Android | 中国大陆 广东省 | 148.93 | 100.00% |
| 2016-07-13 | Android | 中国大陆 广东省 | 99.92 | 97.62% |
| 2016-07-13 | Android | 中国大陆 广东省 | 105.72 | 97.62% |
| 2016-07-13 | Android | 中国大陆 广东省 | 114.95 | 95.24% |
| 2016-07-12 | Windows | Other | 2069.65 | 100.00% |
| 2016-07-12 | Android | 中国大陆 海南省 | 39.87 | 61.90% |
| 2016-07-11 | Windows | 中国大陆 江苏省 | 297.39 | 100.00% |
| 2016-07-11 | Windows | China (Mainland) 海南省 | 1783.52 | 100.00% |
| 2016-07-11 | Android | 中国大陆 广东省 | 152.11 | 100.00% |
| 2016-07-11 | Android | 中国大陆 广东省 | 118.94 | 95.24% |
| 2016-07-11 | Android | 中国大陆 广东省 | 187.15 | 100.00% |
| 2016-07-11 | Android | 中国大陆 广东省 | 153.58 | 100.00% |
| 2016-07-11 | Windows | 中国大陆 天津市 | 381.35 | 100.00% |
| 2016-07-10 | Windows | China (Mainland) 河北省 | 753.26 | 100.00% |
| 2016-07-10 | Android | 中国大陆 海南省 | 16.82 | 64.29% |
| 2016-07-10 | Windows | China (Mainland) 河北省 | 834.05 | 100.00% |
| 2016-07-10 | Windows | China (Mainland) 河北省 | 727.90 | 100.00% |
| 2016-07-09 | Android | 中国大陆 河北省 | 220.11 | 97.62% |
| 2016-07-08 | Windows | China (Mainland) 广东省 | 62.21 | 97.62% |
| 2016-07-08 | Windows | China (Mainland) 广东省 | 62.21 | 97.62% |
| 2016-07-08 | Windows | China (Mainland) 广东省 | 134.85 | 100.00% |
| 2016-07-08 | Windows | China (Mainland) 广东省 | 152.02 | 100.00% |
| 2016-07-07 | Windows | China (Mainland) 北京市 | 70.12 | 88.10% |
| 2016-07-06 | Windows | China (Mainland) 宁夏回族自治区 | 3385.71 | 100.00% |
| 2016-07-06 | Windows | China (Mainland) 海南省 | 1973.50 | 100.00% |
| 2016-07-06 | Windows | China (Mainland) 江苏省 | 196.09 | 100.00% |
| 2016-07-06 | Windows | China (Mainland) beijing | 104.46 | 97.62% |
| 2016-07-06 | Windows | 中国大陆 天津市 | 313.46 | 95.24% |
| 2016-07-05 | Android | 中国大陆 广东省 | 291.59 | 100.00% |
| 2016-07-05 | Android | 中国大陆 广东省 | 281.31 | 100.00% |
| 2016-07-05 | Android | 中国大陆 广东省 | 301.54 | 100.00% |
| 2016-07-05 | Android | 中国大陆 广东省 | 339.71 | 100.00% |
| 2016-07-05 | Android | 中国大陆 广东省 | 320.20 | 100.00% |
| 2016-07-05 | Android | 中国大陆 广东省 | 286.29 | 100.00% |
| 2016-07-05 | Android | 中国大陆 广东省 | 280.04 | 100.00% |
| 2016-07-05 | Android | 中国大陆 广东省 | 477.40 | 100.00% |
| 2016-07-05 | Android | 中国大陆 广东省 | 490.27 | 100.00% |
| 2016-07-05 | Android | 中国大陆 广东省 | 341.92 | 100.00% |
| 2016-07-05 | Android | 中国大陆 广东省 | 458.13 | 100.00% |
| 2016-07-05 | Android | 中国大陆 广东省 | 357.68 | 95.24% |
| 2016-07-05 | Windows | China (Mainland) 河北省 | 350.45 | 100.00% |
| 2016-07-05 | Android | 中国大陆 海南省 | 25.58 | 78.57% |
| 2016-07-05 | Windows | China (Mainland) 新疆维吾尔自治区 | 1378.63 | 100.00% |
| 2016-07-05 | Windows | China (Mainland) 四川省 | 333.85 | 92.86% |
| 2016-07-05 | Windows | China (Mainland) 贵州省 | 171.53 | 95.24% |
| 2016-07-05 | Windows | China (Mainland) 四川省 | 125.92 | 95.24% |
| 2016-07-05 | Android | 中国大陆 广东省 | 201.55 | 100.00% |
| 2016-07-05 | Android | 中国大陆 广东省 | 148.84 | 100.00% |
| 2016-07-05 | Android | 中国大陆 广东省 | 97.99 | 100.00% |
| 2016-07-04 | Android | China (Mainland) 辽宁省 | 832.23 | 100.00% |
| 2016-07-04 | Android | 中国大陆 广东省 | 208.20 | 97.62% |
| 2016-07-04 | Android | 中国大陆 广东省 | 228.45 | 100.00% |
| 2016-07-04 | Android | 中国大陆 广东省 | 210.63 | 100.00% |
| 2016-07-04 | Android | 中国大陆 海南省 | 68.42 | 97.62% |
| 2016-07-03 | Android | 中国大陆 广东省 | 112.81 | 100.00% |
| 2016-07-03 | Android | 中国大陆 广东省 | 109.39 | 100.00% |
| 2016-07-03 | Android | 中国大陆 广东省 | 142.10 | 100.00% |
| 2016-07-03 | Android | 中国大陆 海南省 | 36.51 | 83.33% |
| 2016-07-03 | Windows | China (Mainland) 吉林省 | 1210.65 | 100.00% |
| 2016-07-03 | Windows | China (Mainland) 山西省 | 659.66 | 100.00% |
| 2016-07-02 | Windows | China (Mainland) 山西省 | 974.42 | 100.00% |
| 2016-07-02 | Android | 中国大陆 广东省 | 284.81 | 100.00% |
| 2016-07-02 | Android | 中国大陆 广东省 | 229.66 | 100.00% |
| 2016-07-02 | Android | 中国大陆 广东省 | 241.98 | 100.00% |
| 2016-07-02 | Android | 中国大陆 广东省 | 305.42 | 59.52% |
| 2016-07-01 | Windows | China (Mainland) 福建省 | 1527.96 | 100.00% |
| 2016-07-01 | Windows | China (Mainland) 青海省 | 1491.27 | 100.00% |
| 2016-06-30 | Windows | China (Mainland) 云南省 | 984.90 | 100.00% |
| 2016-06-30 | Windows | China (Mainland) 贵州省 | 1874.18 | 97.62% |
| 2016-06-30 | Windows | China (Mainland) 湖北省 | 2250.20 | 100.00% |
| 2016-06-30 | Android | 中国大陆 海南省 | 239.99 | 100.00% |
| 2016-06-29 | Windows | China (Mainland) 湖南省 | 1585.36 | 100.00% |
| 2016-06-29 | Windows | China (Mainland) 河南省 | 1660.30 | 100.00% |
| 2016-06-29 | Android | 中国大陆 海南省 | 505.38 | 61.90% |
| 2016-06-29 | Windows | China (Mainland) 辽宁省 | 1311.90 | 100.00% |
| 2016-06-28 | Android | 中国大陆 广东省 | 166.13 | 100.00% |
| 2016-06-28 | Android | 中国大陆 广东省 | 152.18 | 100.00% |
| 2016-06-28 | Android | 中国大陆 广东省 | 169.89 | 100.00% |
| 2016-06-28 | Android | 中国大陆 广东省 | 244.56 | 100.00% |
| 2016-06-28 | Android | 中国大陆 广东省 | 245.81 | 100.00% |
| 2016-06-28 | Android | 中国大陆 广东省 | 190.20 | 100.00% |
| 2016-06-28 | Android | 中国大陆 广东省 | 243.07 | 100.00% |
| 2016-06-28 | Android | 中国大陆 广东省 | 227.03 | 100.00% |
| 2016-06-28 | Android | 中国大陆 广东省 | 189.37 | 100.00% |
| 2016-06-28 | Android | 中国大陆 广东省 | 153.66 | 100.00% |
| 2016-06-28 | Android | 中国大陆 广东省 | 240.38 | 100.00% |
| 2016-06-28 | Android | 中国大陆 广东省 | 258.24 | 100.00% |
| 2016-06-28 | Android | 中国大陆 广东省 | 319.40 | 100.00% |
| 2016-06-28 | Windows | China (Mainland) 黑龙江省 | 2079.66 | 100.00% |
| 2016-06-28 | Windows | 中国大陆 海南省 | 27.43 | 83.33% |
| 2016-06-28 | Windows | 中国大陆 重庆市 | 306.04 | 92.86% |
| 2016-06-27 | Windows | China (Mainland) 重庆市 | 1382.31 | 100.00% |
| 2016-06-27 | Android | 中国大陆 广东省 | 167.30 | 100.00% |
| 2016-06-27 | Android | 中国大陆 广东省 | 167.61 | 100.00% |
| 2016-06-27 | Android | 中国大陆 广东省 | 151.31 | 92.86% |
| 2016-06-27 | Android | 中国大陆 广东省 | 194.97 | 100.00% |
| 2016-06-27 | Android | 中国大陆 广东省 | 215.76 | 100.00% |
| 2016-06-27 | Android | 中国大陆 广东省 | 262.78 | 100.00% |
| 2016-06-27 | Android | 中国大陆 广东省 | 224.28 | 100.00% |
| 2016-06-27 | Android | 中国大陆 广东省 | 189.42 | 100.00% |
| 2016-06-27 | Android | 中国大陆 广东省 | 197.84 | 100.00% |
| 2016-06-27 | Android | 中国大陆 广东省 | 250.28 | 100.00% |
| 2016-06-27 | Android | 中国大陆 海南省 | 32.73 | 95.24% |
| 2016-06-27 | Android | 中国大陆 广东省 | 258.24 | 100.00% |
| 2016-06-27 | Android | 中国大陆 广东省 | 412.85 | 100.00% |
| 2016-06-27 | Android | 中国大陆 广东省 | 354.56 | 100.00% |
| 2016-06-27 | Android | 中国大陆 广东省 | 349.05 | 100.00% |
| 2016-06-27 | Android | 中国大陆 广东省 | 299.36 | 100.00% |
| 2016-06-27 | Android | 中国大陆 广东省 | 329.90 | 100.00% |
| 2016-06-27 | Android | 中国大陆 广东省 | 246.33 | 100.00% |
| 2016-06-27 | Android | 中国大陆 广东省 | 374.68 | 100.00% |
| 2016-06-27 | Android | 中国大陆 广东省 | 300.77 | 100.00% |
| 2016-06-26 | Android | 中国大陆 广东省 | 187.18 | 100.00% |
| 2016-06-26 | Android | 中国大陆 广东省 | 193.42 | 100.00% |
| 2016-06-26 | Android | 中国大陆 广东省 | 183.26 | 100.00% |
| 2016-06-26 | Android | 中国大陆 广东省 | 173.00 | 100.00% |
| 2016-06-26 | Android | 中国大陆 广东省 | 185.78 | 100.00% |
| 2016-06-26 | Android | 中国大陆 广东省 | 172.52 | 100.00% |
| 2016-06-26 | Android | 中国大陆 广东省 | 157.66 | 100.00% |
| 2016-06-21 | Android | 中国大陆 海南省 | 64.45 | 97.62% |
| 2016-06-14 | Android | 中国大陆 广东省 | 305.30 | 100.00% |
| 2016-06-05 | Windows | 中国大陆 北京市 | 289.51 | 80.95% |
| 2016-05-24 | Android | 中国大陆 湖南省 | 40.83 | 80.95% |
| 2016-05-24 | Android | 中国大陆 湖南省 | 66.98 | 88.10% |
| 2016-05-23 | Android | China (Mainland) 广东省 | 2805.07 | 90.48% |
| 2016-05-17 | Android | 中国大陆 甘肃省 | 139.92 | 90.48% |
| 2016-05-04 | Android | 中国大陆 山东省 | 446.02 | 95.24% |
| 2016-04-29 | Android | China (Mainland) 黑龙江省 | 589.22 | 100.00% |
| 2016-04-25 | Windows | China (Mainland) | 977.79 | 85.71% |
| 2016-04-24 | Windows | 中国大陆 | 154.59 | 100.00% |
| 2016-04-23 | Android | 中国大陆 | 120.96 | 95.24% |
| 2016-04-21 | Windows | 中国大陆 | 167.70 | 95.24% |
| 2016-04-20 | Android | 中国大陆 | 118.23 | 92.86% |
| 2016-04-16 | Windows | China (Mainland) | 810.99 | 95.45% |
Discuss VyprVPN