VPNSecure platforms
| Platform | Speed | Stability |
| --- | --- | --- |
| Android | - | - |
| Windows | 1,296 kbps | 98% |
VPNSecure protocols
VPN: Virtual Private Networks come in many forms. Advantages include security and ease of use. VPNs can be used by any software. Turning the VPN on and off can be slow.
Install VPNSecure
Windows
1. First you need to download the VPNSecure Windows client. Please visit https://github.com/greatfire/cc and download VPNS_2.0.8.exe
2. Double-click the installation file once the download is complete. If presented with a security prompt, click "Agree" to install.
3. Click "Next" until the installation is complete. Once the installation is complete, open https://www.vpnsecure.me.
4. On the login screen, enter your account information to login.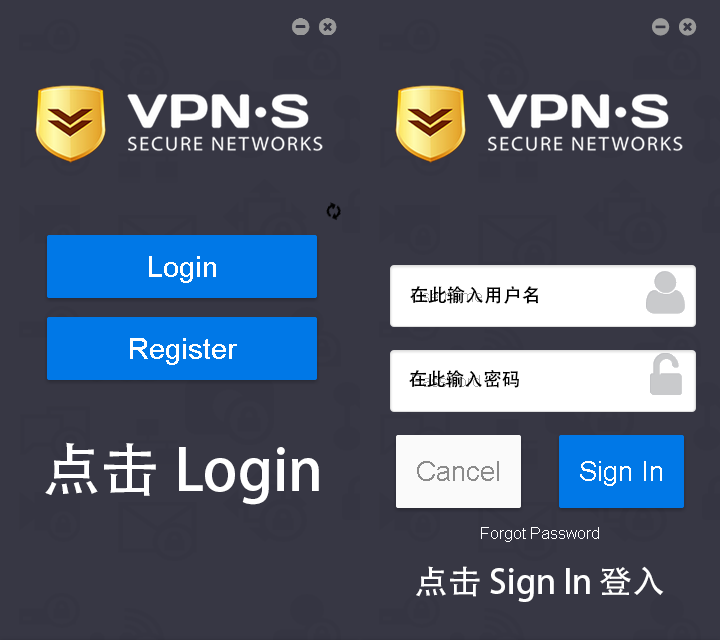 5. After the first login, users in China users should turn on Stealth VPN mode.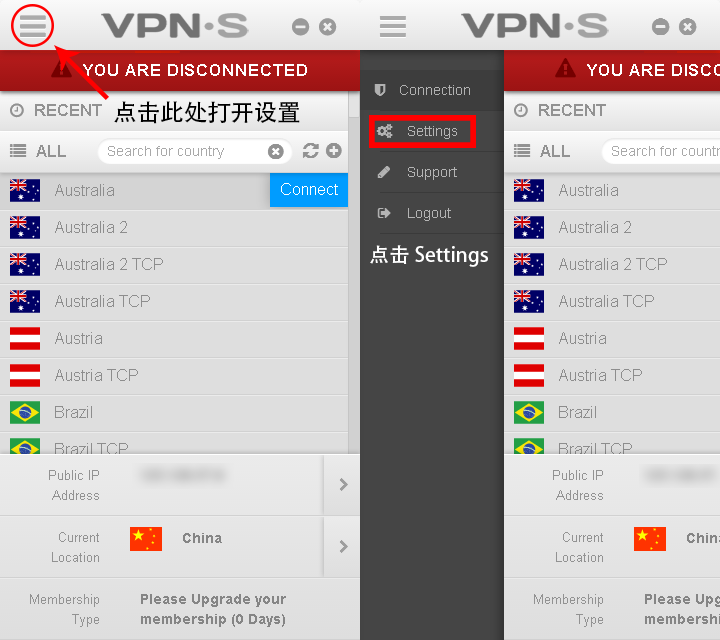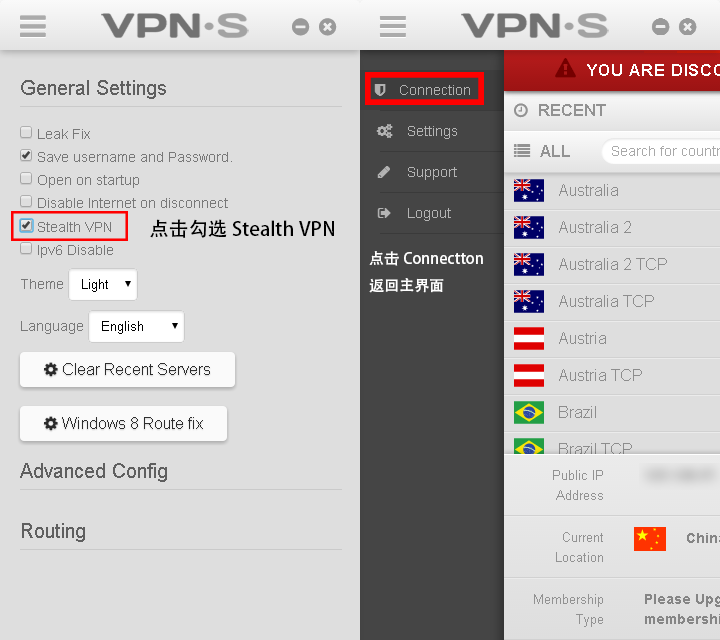 6. Select any one of the servers to connect.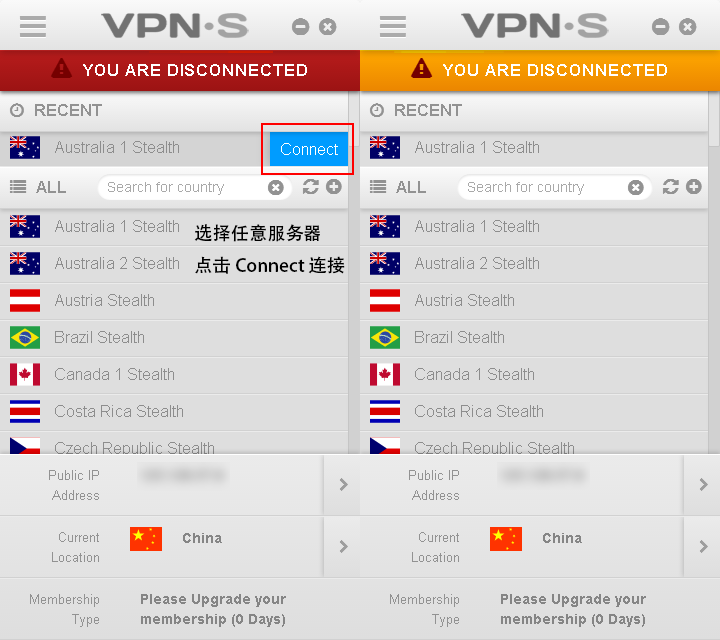 VPNSecure performance
Speed
Stability
Number of tests
All Tests
| Created At | Platform | Location | Median Speed | Stability |
| --- | --- | --- | --- | --- |
| 2022-10-30 | Windows | | 1295.73 | 97.62% |
| 2022-10-29 | iOS | | 257.67 | 100.00% |
| 2022-07-05 | Windows | | 660.76 | 90.48% |
| 2022-02-21 | Mac OS | | 403.84 | 100.00% |
| 2021-07-30 | Android | | 253.47 | 100.00% |
| 2021-06-25 | iOS | | 466.46 | 100.00% |
| 2021-05-23 | Android | | 242.95 | 100.00% |
| 2021-05-08 | Windows | | 627.78 | 90.48% |
| 2020-12-16 | Windows | | 152.68 | 90.48% |
| 2020-11-27 | Mac OS | | 731.56 | 90.48% |
| 2020-08-23 | Windows | | 437.46 | 100.00% |
| 2020-06-23 | Windows | | 179.16 | 90.48% |
| 2020-04-30 | Windows | | 224.48 | 100.00% |
| 2019-12-14 | Windows | | 297.65 | 100.00% |
| 2019-11-27 | Android | | 194.96 | 100.00% |
| 2019-09-06 | Windows | | 196.64 | 100.00% |
| 2019-06-13 | Windows | | 483.20 | 100.00% |
| 2019-05-14 | Windows | | 78.12 | 100.00% |
| 2019-04-03 | Windows | | 508.88 | 90.48% |
| 2019-02-22 | Windows | | 314.87 | 100.00% |
| 2019-02-09 | Windows | | 624.21 | 100.00% |
| 2019-01-10 | Windows | | 256.64 | 97.62% |
| 2018-12-20 | Mac OS | | 560.02 | 100.00% |
| 2018-10-26 | Android | | 68.20 | 100.00% |
| 2018-10-16 | Windows | | 489.98 | 100.00% |
| 2018-09-14 | Windows | | 485.40 | 100.00% |
| 2018-07-28 | Android | | 170.42 | 100.00% |
| 2018-07-28 | Android | | 724.62 | 90.48% |
| 2018-07-05 | Windows | | 1416.74 | 97.62% |
| 2018-07-03 | Android | | 91.73 | 92.86% |
| 2018-04-12 | Android | | 157.04 | 90.48% |
| 2018-03-17 | Windows | | 241.64 | 100.00% |
| 2018-03-17 | Windows | | 268.38 | 97.62% |
| 2018-03-11 | Android | | 274.65 | 100.00% |
| 2018-03-11 | Android | | 274.65 | 100.00% |
| 2018-02-18 | Windows | | 378.93 | 100.00% |
| 2018-01-05 | Windows | | 377.09 | 100.00% |
| 2017-12-16 | Windows | | 365.44 | 100.00% |
| 2017-10-10 | Android | | 110.94 | 90.48% |
| 2017-10-10 | Android | | 151.56 | 90.48% |
| 2017-10-10 | Android | | 113.44 | 90.48% |
| 2017-10-10 | Android | | 133.09 | 90.48% |
| 2017-07-04 | Android | | 311.60 | 97.62% |
| 2017-06-01 | Windows | | 497.96 | 100.00% |
| 2017-05-17 | Windows | | 697.84 | 100.00% |
| 2016-11-26 | Windows | | 247.23 | 100.00% |
| 2016-11-22 | Android | | 192.49 | 100.00% |
| 2016-11-21 | iOS | | 107.09 | 100.00% |
| 2016-11-18 | iOS | | 130.73 | 100.00% |
| 2016-11-17 | Mac OS | | 178.84 | 100.00% |
| 2016-11-12 | Windows | | 121.72 | 100.00% |
| 2016-11-12 | Windows | | 70.22 | 100.00% |
| 2016-11-12 | Windows | | 68.28 | 100.00% |
| 2016-11-07 | Windows | | 803.31 | 100.00% |
| 2016-10-07 | Mac OS | | 638.69 | 100.00% |
| 2016-09-15 | Android | | 266.46 | 100.00% |
| 2016-09-09 | Windows | | 511.59 | 100.00% |
| 2016-09-07 | Windows | | 240.25 | 95.24% |
| 2016-08-16 | Android | 中国大陆 广东省 | 89.05 | 97.62% |
| 2016-08-16 | Android | 中国大陆 广东省 | 78.89 | 88.10% |
| 2016-08-13 | Android | 中国大陆 广东省 | 75.02 | 100.00% |
| 2016-08-13 | Android | 中国大陆 广东省 | 141.73 | 100.00% |
| 2016-08-04 | Android | 中国大陆 广东省 | 34.50 | 85.71% |
| 2016-08-04 | Android | 中国大陆 广东省 | 48.91 | 85.71% |
| 2016-08-03 | Android | 中国大陆 广东省 | 93.42 | 100.00% |
| 2016-08-03 | Android | 中国大陆 广东省 | 105.37 | 100.00% |
| 2016-08-03 | Windows | China (Mainland) 辽宁省 | 411.67 | 100.00% |
| 2016-08-02 | Windows | 中国大陆 天津市 | 176.38 | 100.00% |
| 2016-08-02 | Windows | 中国大陆 天津市 | 136.96 | 97.62% |
| 2016-08-02 | Windows | 中国大陆 天津市 | 104.43 | 100.00% |
| 2016-08-02 | Windows | 中国大陆 天津市 | 99.18 | 100.00% |
| 2016-08-01 | Android | 中国大陆 天津市 | 209.92 | 100.00% |
| 2016-08-01 | Android | 中国大陆 广东省 | 146.81 | 88.10% |
| 2016-08-01 | Android | 中国大陆 广东省 | 127.57 | 90.48% |
| 2016-08-01 | Android | 中国大陆 广东省 | 83.76 | 85.71% |
| 2016-08-01 | Android | 中国大陆 广东省 | 77.09 | 97.62% |
| 2016-08-01 | Android | 中国大陆 广东省 | 83.08 | 97.62% |
| 2016-08-01 | Android | 中国大陆 广东省 | 86.93 | 100.00% |
| 2016-08-01 | Android | 中国大陆 广东省 | 78.38 | 100.00% |
| 2016-08-01 | Android | 中国大陆 广东省 | 86.50 | 83.33% |
| 2016-07-22 | Windows | 中国大陆 广东省 | 205.69 | 100.00% |
| 2016-07-08 | Windows | China (Mainland) 上海市 | 729.18 | 100.00% |
| 2016-06-26 | Android | 中国大陆 山东省 | 233.29 | 95.24% |
| 2016-06-26 | Android | 中国大陆 山东省 | 283.16 | 95.24% |
| 2016-06-26 | Android | 中国大陆 山东省 | 175.92 | 95.24% |
| 2016-06-26 | Android | 中国大陆 山东省 | 272.89 | 95.24% |
| 2016-06-26 | Android | 中国大陆 山东省 | 303.61 | 95.24% |
| 2016-06-19 | Android | 中国大陆 江西省 | 226.17 | 71.43% |
| 2016-06-14 | Windows | 中国大陆 江西省 | 136.53 | 100.00% |
| 2016-06-14 | Android | 中国大陆 江西省 | 261.77 | 71.43% |
| 2016-06-14 | Android | 中国大陆 江西省 | 144.72 | 71.43% |
| 2016-06-14 | Android | 中国大陆 江西省 | 77.96 | 71.43% |
| 2016-05-07 | Windows | 中国大陆 广东省 | 256.25 | 92.86% |
| 2016-05-07 | Windows | 中国大陆 上海市 | 68.60 | 97.62% |
| 2016-05-06 | Windows | China (Mainland) 四川省 | 215.42 | 95.24% |
| 2016-05-05 | Windows | 中国大陆 陕西省 | 293.82 | 95.24% |
| 2016-05-04 | Windows | 中国大陆 山东省 | 142.27 | 92.86% |
| 2016-05-02 | Windows | 中国大陆 山东省 | 286.37 | 95.24% |
| 2016-05-02 | Windows | 中国大陆 山东省 | 116.90 | 95.24% |
Discuss VPNSecure